WORLD'S MOST POTENT DIETARY AND SKIN CARE ANTIOXIDANTS
EXTRACTED AND ACTIVATED FOR OPTIMAL BIOAVAILABILITY
GLUTEN FREE - VEGAN - 100% AUSTRALIAN APPLES
THE MOST POTENT BROAD SPECTRUM DIETARY ANTIOXIDANT
世界上最有效的廣譜抗氧化劑的保健食品 ,由蘋果製成 。
Renovatio誕生於澳大利亞紐卡素大學與新南威爾士州第一產業部合作開展的世界領先的營養研究。
其結果是獨特的100%純天然真正廣譜的抗氧化劑,亦是含最有效抗氧化劑的保健食品。
這種效力來自無用化學物質提取和活化的酚類抗氧化劑,能為您提供強大的細胞保護來對抗體內的自由基。

澳洲紐卡素大學成功研究出能令酚類抗氧化劑活化的唯一方法,同時是打擊體內自由基的最佳方法。(吸收率高達90%)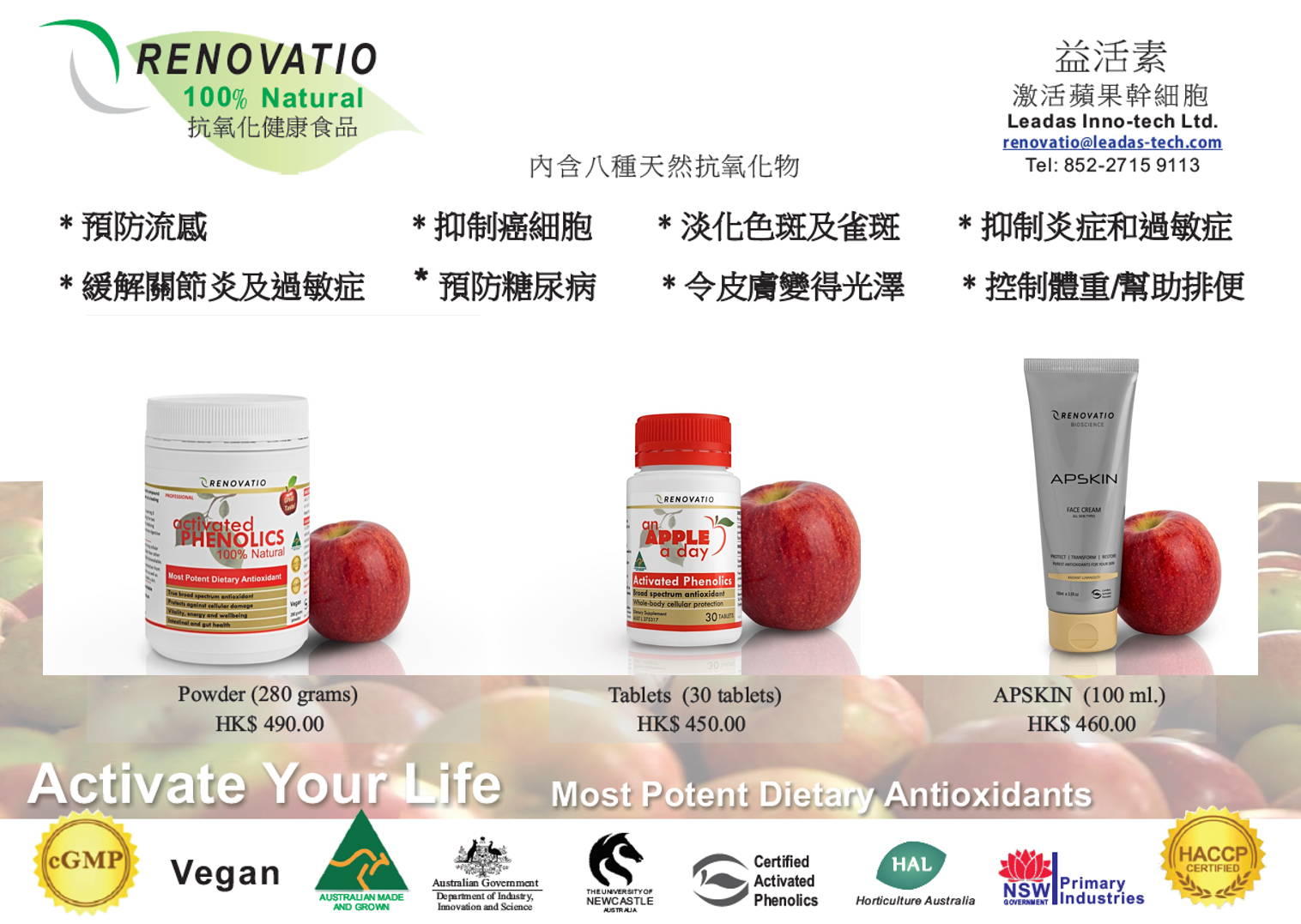 RENOVATIO ACTIVATED PHENOLICS POWDER IS A UNIQUE
100% NATURAL - TRULY BROAD SPECTRUM ANTIOXIDANT
Developed by a nutrition and health research team at The University of Newcastle, Australia it is the most potent dietary antioxidant available.
A unique synergistic broad spectrum antioxidant, containing 8 phenolic types from all three antioxidant families, including the two strongest dietary antioxidants.
The powder also contains the alkalising Oligospectine – a propriety fibre.Phenolics are powerful antioxidants that provide strong cellular protection against a far broader range of free radicals than other antioxidants. They resist pro-oxidation and are highly bioavailable.
Research shows phenolics may contribute to the protection from degenerative, digestive and inflammatory conditions.Entirely natural, 100% Australian made and derived from only quality Australian produce.

'AN APPLE A DAY' ACTIVATED PHENOLICS ARE DERIVED FROM NATURE'S HEALTHIEST FRUIT - APPLES (MALUS DOMESTICA)
Apples are unique, in that out of the 1,723 different types of edible fruit, they contain the highest proportion of free phenolic antioxidants and the broadest spectrum of antioxidants.
This may lend some truth to the proverb that has been passed down through both western and eastern culture – 'An apple a day, keeps the doctor away'.
Activated Phenolics are high potency antioxidants that neutralise a wide range of free radicals protecting cells from damage.
Studies have shown phenolic antioxidants contribute to the protection and recovery from degenerative, digestive and inflammatory conditions as well as contributing to weight loss and maintaining energy levels.'An Apple a Day' is made in Australia from 100% Australian ingredients.

THE WORLD'S BEST AND MOST POTENT ANTIOXIDANT FACE CREAM
Transform your skin, boosting your skin's glow and radiance.Scientifically formulated from apples, nature's best source of broad spectrum antioxidants.
Phenolic antioxidants from apples are the world's most potent antioxidants.
APSKIN protects, regenerates and restores skin at the cellular level like no other face cream available.Use APSKIN to transform your skin, boosting your skin's glow and radiance.
Nourishing your skin at the cellular level, APSKIN is formulated to protect elastin and collagen structures, leaving your skin transformed, glowing and ageless.
A luxurious, hydrating and restorative face cream that smooths and improves your complexion.Noticeable results can be seen after using APSKIN for 3-5 days, especially in areas of discolouration, damage or stress*.The power of eight antioxidants, extracted from a single source to maximise cellular synergistic affinity.

SIGN UP TO OUR NEWSLETTER