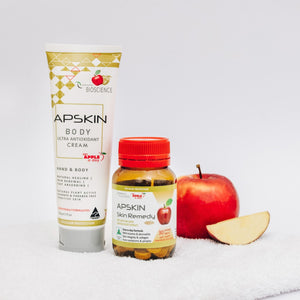 Skin Rescue Pack
Regular price $51.00 $30.00 Sale
 LIMITED TIME ONLY! APSKIN Skin Remedy + FREE APSKIN Hand and Body Cream
A specialised high-potency formulation from leading university research. Combining our award winning APSKIN Hand and Body Cream for topical application and a comprehensive one-a-day chewable formula of active ingredients to relieve inflammation, support skin health & structure. APSKIN Hand and Body cream helps to moisturise, repair and soften as well as locking in moisture especially after hand washing, showering and sleeping.

APSKIN Skin Remedy contains Activated Phenolics, burdock root extract, vitamin B5, C & zinc and is formulated to:
Maintain and support skin structure and integrity
Support collagen health
Support connective tissue formation and wound healing   
Decrease symptoms of acne and pimples


Directions: Adults - chew 1 APSKIN Skin Remedy tablet daily or as directed by your health professional. Use APSKIN Hand and Body cream morning and night or as needed.